Hey there, Hunters!
My name is Dag Lindwall and I'm a Senior Environment Artist at Avalanche Studios Group. On top of my duties in this role, I'm also one of the Craft Leads for our Environment Art Craft, where I help our Environment Artists grow and develop in their careers. Today, I'd like to talk a little bit about one of the newest free features coming to theHunter: Call of the Wild – the Trophy Cabin. This, alongside other new content, game improvements, and fixes, will be a part of the Showcase Update arriving March 14th alongside the Hunter Power Pack. There'll be more information about that on release!
Introducing the Trophy Cabin!
It really humbles us to see how much so many of you enjoy our game. Because of this, we decided to make this cabin, codenamed FTC for "Free Trophy Cabin", as a thank you for your ongoing support! Being able to proudly display the results of your fruitful hunts is one of the most satisfying parts of theHunter and we want to give all of you the ability to show off a few of your trophies.
In the Trophy Cabin, you will be able to display all trophies from the Layton Lake and Hirschfelden reserves. As an extra little perk, we added a multimount platform smack dab in the middle of the great room. Perfect for whichever extra large or multimount trophy you want to showcase there!
Being born and raised in Sweden I personally love having a majestic-looking moose standing on the multimount platform greeting you with its presence as you enter the cabin. It just feels right!
From a small idea to the grand design
Initially, this cabin was intended to be just a small, cozy hangout place. However, we quickly realized that it's our best chance to give you a space you can be proud of, so anything 'small' would not do! It was essential for us to allow you to mount your prized trophies on a variety of plaques and plinths, as well as at least one multimount platform for you to showcase your best and biggest hunt. With that sorted, the other parts of the cabin also needed to be upgraded to match that design.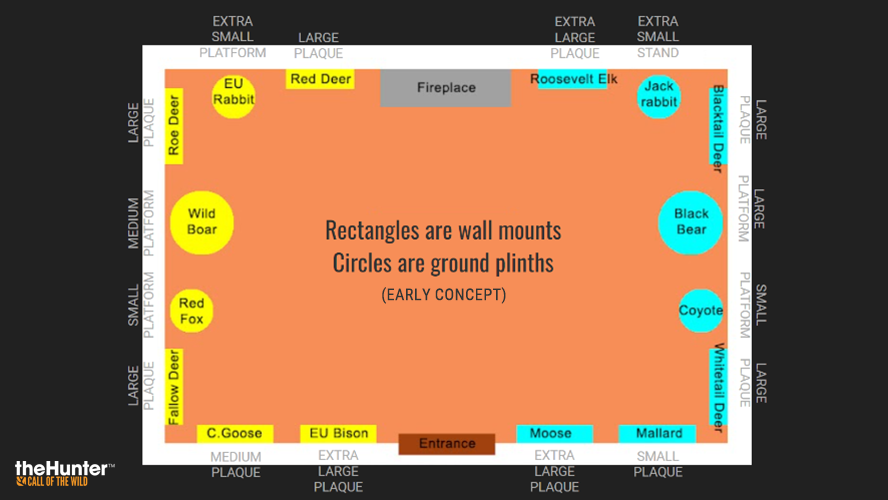 If you had a cabin as large and remote as this one, I imagine you'd want to take your hunting buddies for an extended getaway in the mountains and not just a quick visit. That means you'd need somewhere for everyone to sleep, so I added a few guest bedrooms, as well as a larger master suite for you, the owner.
While you might find parts of the cabin and its surrounding grounds to be there mostly for decorative and atmospheric purposes, it was important to me to give it that extra polish so you can fully live out your fantasies of owning a cozy hunting hideout. I wanted the cabin to not only be a great place to showcase the trophies, but also to fulfill my dream of owning one.
Inspiration comes from many places
One of the first things you will notice after entering the Trophy Cabin is the large wall of windows in the great room with the fireplace in the middle. This bit was inspired by a (much smaller) cabin I saw in the Swedish mountains!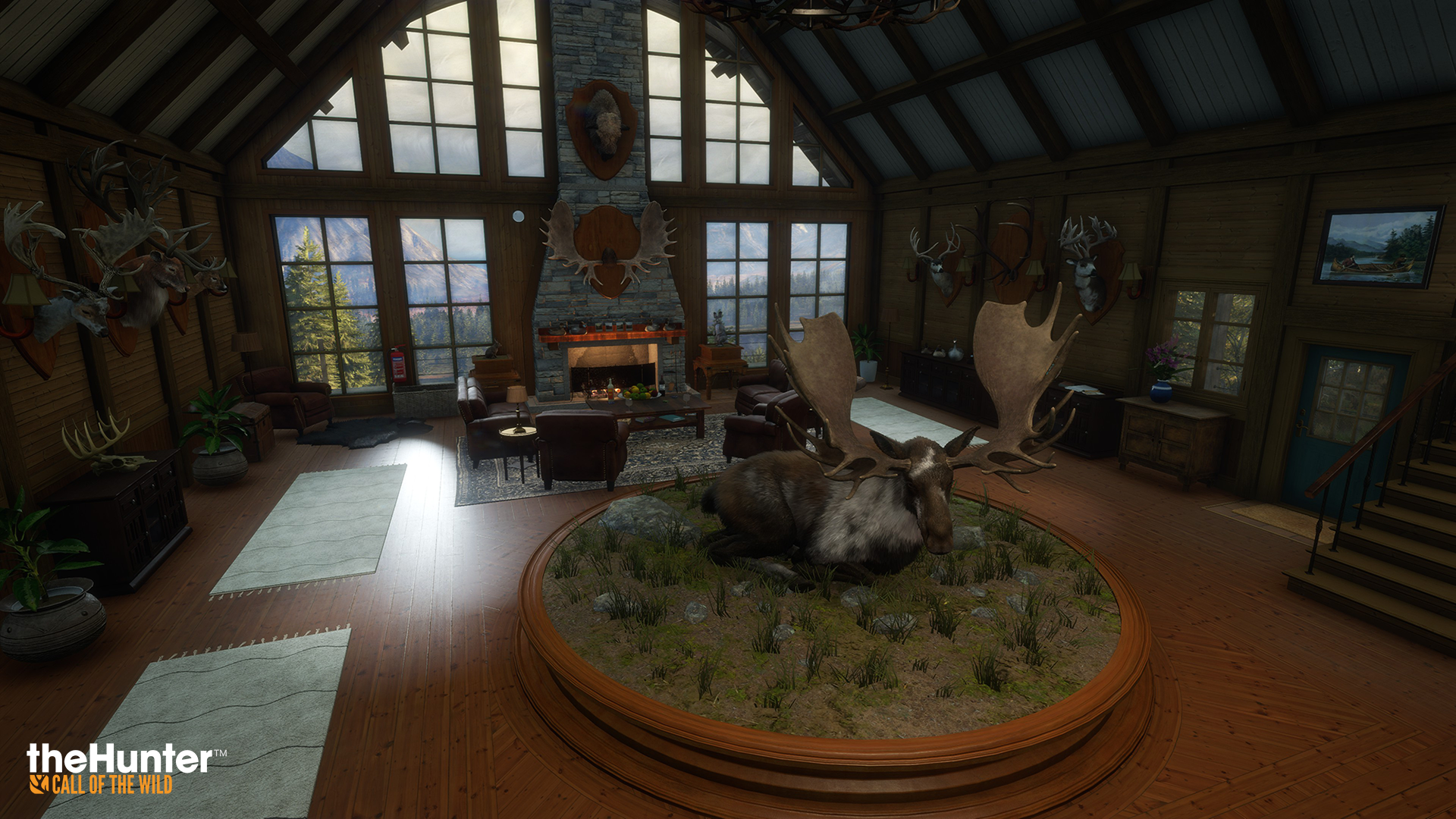 Of course, the Internet is a great source of reference images and I spent quite a while browsing through page after page, looking for the perfect pictures. I love complex shapes and curves, so when I found some lodges with curved ceiling beams I knew I needed them in our cabin! I'm also fond of houses with more than one floor, non-standard floor plans and sections with double-height ceilings. For that reason I added a balcony overlooking the great room, as it makes the layout more dramatic and exciting.
After that, I just kept adding features that I would love to have in a cabin of my own.
A hot tub – yes!
A pool table – of course!
A large kitchen, dining room, and a barbeque on the deck? It must have it!
Making this cabin was a blast and I hope you'll enjoy hanging out in it and showcasing your favorite trophies there as much as I enjoyed building it!